I've always liked to think of myself as a bit of a MacGyver when it comes to playtime. Theory being that left to my own devices, or with what is just conventionally on hand, I could still facilitate a very satisfying and creative BDSM scene. In a pinch, pun intended, I really don't need anything more than my own sweetly dangerous bod and wicked imagination to come up with a scene that will rock my playmate's world.
Often enough, when I look back, its the things I did with my hands, the press of my body, and those well chosen whispered words which seem to be the stand out moments for me. I know that a big part of this is that I'm an energy junkie with a pretty major hand fetish so activities that bring me into close contact with flesh…mmmmm…aw yeah…that's what I'm talkin about.
But despite my predilections for low maintenance, hands-on, power dynamic focused play I do seem to have acquired, and learned to appreciate the benefits of, a fairly ridiculous toy collection. 
While doing one of my regular clean and purges of my play space today, I thought it'd be fun to go over just how much freakin gear I have. Added bonus – the next time someone wants to play twenty questions about my toy box, or cares to doubt just how fully equipped I am, I can just send them to this blog post. Ta Dah!
Without further ado, some of the larger pieces of my considerable collection: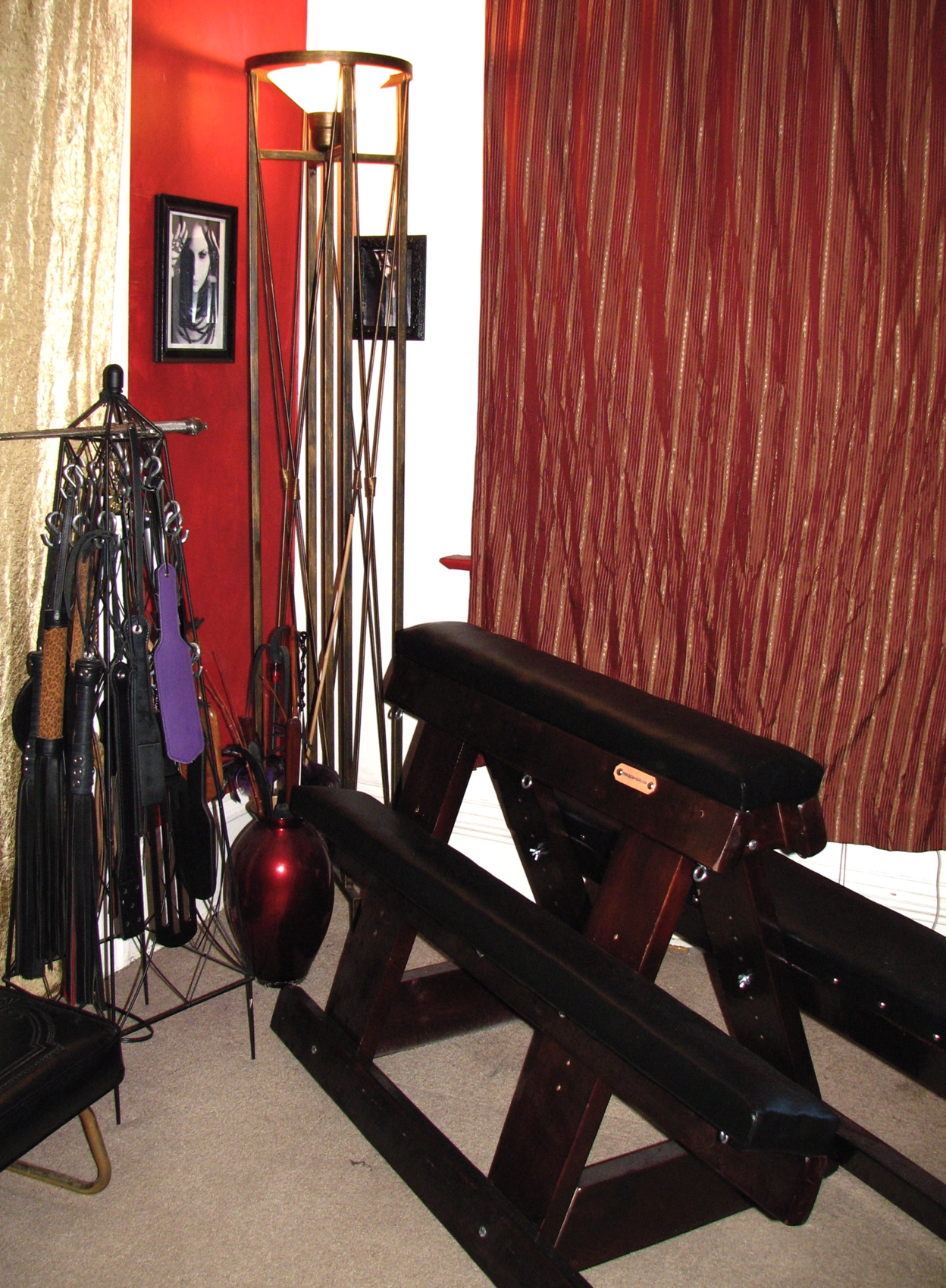 Nice solid wood spanking horse with padded adjustable rails. Next to it is The Tower of Ow, aka, where I hang most of the things I use to hit people with. Slappers and floggers of rubber and hard and soft leather. Paddles of rubber, plastic, leather and wood. A couple of dragon tail whips. A Scott Paul Big Daddy aluminum and rubber bat. Next to the Tower is a vase for hitting toys that don't hang as well: canes, ridiculous feather ticklers, riding crops, a wonderfully evil electric device, and this weird rubber ended flicker thing that I have yet to use as it is stingy and awkward to wield.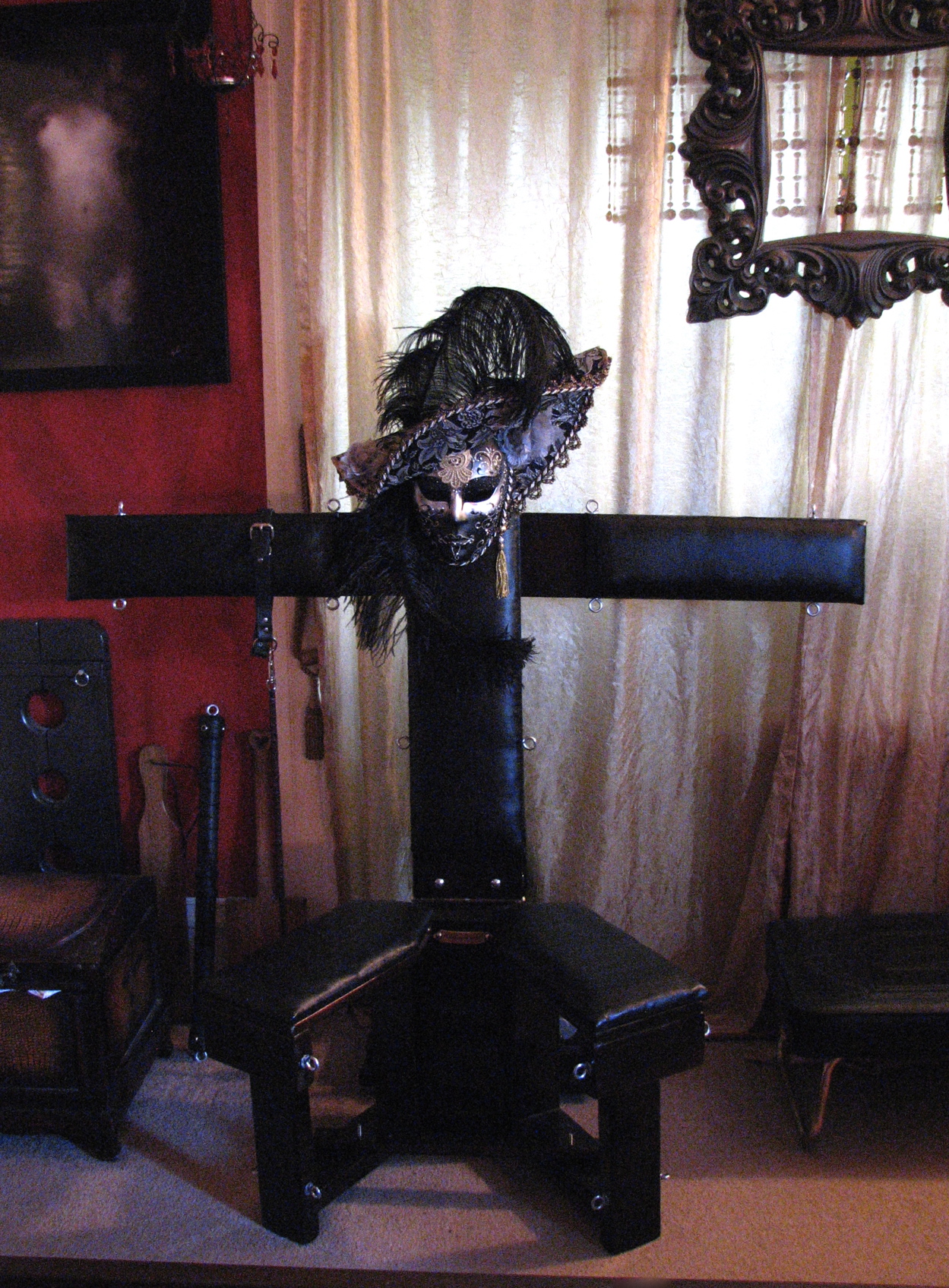 The revealingly named CBT (cock and ball "torture") chair. Sometimes called a bondage chair…but why would you tie someone to it if you weren't planing to do naughty things to their naughty bits. Anyhoo, also adjustable with a padded seat…because pain should always be intentional not incidental. To the right of it is a small leather stool which is great for OTK (over the knee) spankings and for submissives with bad knees who can't manage kneeling. To the left, leaning against the wall is a couple of large wooden paddles, a rubber wrapped spreader bar, and a stockade. The trunk holds my cuffs and the rope that isn't already strategically placed on the bed. This is what that stuff looks like when I take it out of the trunk…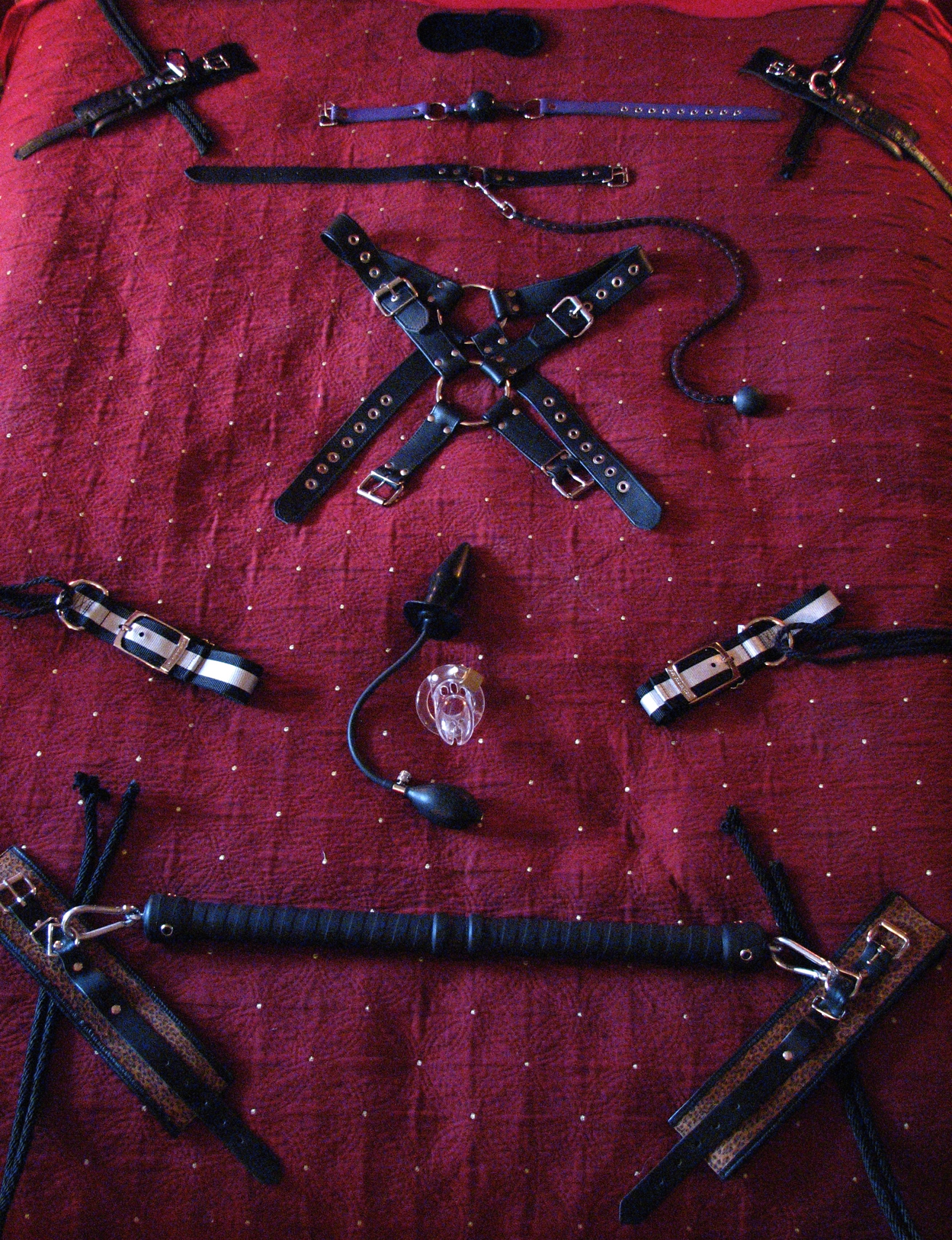 See! All that's missing is you…
Pictured is wrist, ankle and thigh cuffs, the spreader bar and a chest harness. And just to create the perfect tableau – blindfold, ball gag, collar and leash, inflatable butt plug and chastity device. 
What? This isn't how you spend your Sunday afternoons?
Despite having the other furniture, I do most of my tying up (and play in general) on what, I think at least, is one of the more beautiful and non-obvious bondage beds. In addition to being sturdy enough for standard 4, or 6, point restraint it also works as an excellent standing rack. The foot board is at just the right height to use as a hard point to secure boy bits to or to provide an object to lean on that doesn't keep anything out of reach. And the cross beams of the canopy are strong enough to do partial suspensions from as well as providing a hand hold for me when I want to do a little trampling. And its pretty…see…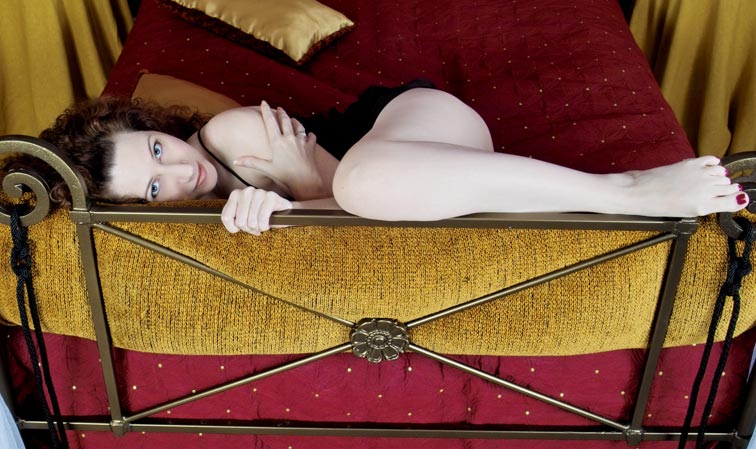 Then…there's the rest of the toys. I like to keep things on hand and grabable instead of having to constantly scramble through drawers and bins. I'd much rather focus on my playmate than play another round of Where's Waldo for the perfect pair of nipple clamps. And having everything out encourages me to use my toys…so they don't get all sad and lonely from neglect. I just keep the counter, and all its assorted accruements, covered when I'm not actively molesting someone.
Would you look at that…I mean really…how the hell did this happen??? Ya start off with a couple of clamps, a couple of cocks…and before you know it you've got half the stock of a sex toy shop. This my friends, is one of the dangers of going pro…one of the others is becoming way too spoiled by getting to play with a large variety of kinks and a higher than usual number of adorable newbies. 
So there is WAY too much going on in that photo to cover it as is, and because I think this might be the most fun and informative part of our journey I'm gonna break it into two parts.
Part one = mostly nice things that look kinda like penis for people with, and without penises, of their own.
Part Two = mostly things meant to tease, torture or otherwise traumatize…penis…but also some other body parts and so they can be amusing whether you're an iny, an outy, or somewhere inbetween.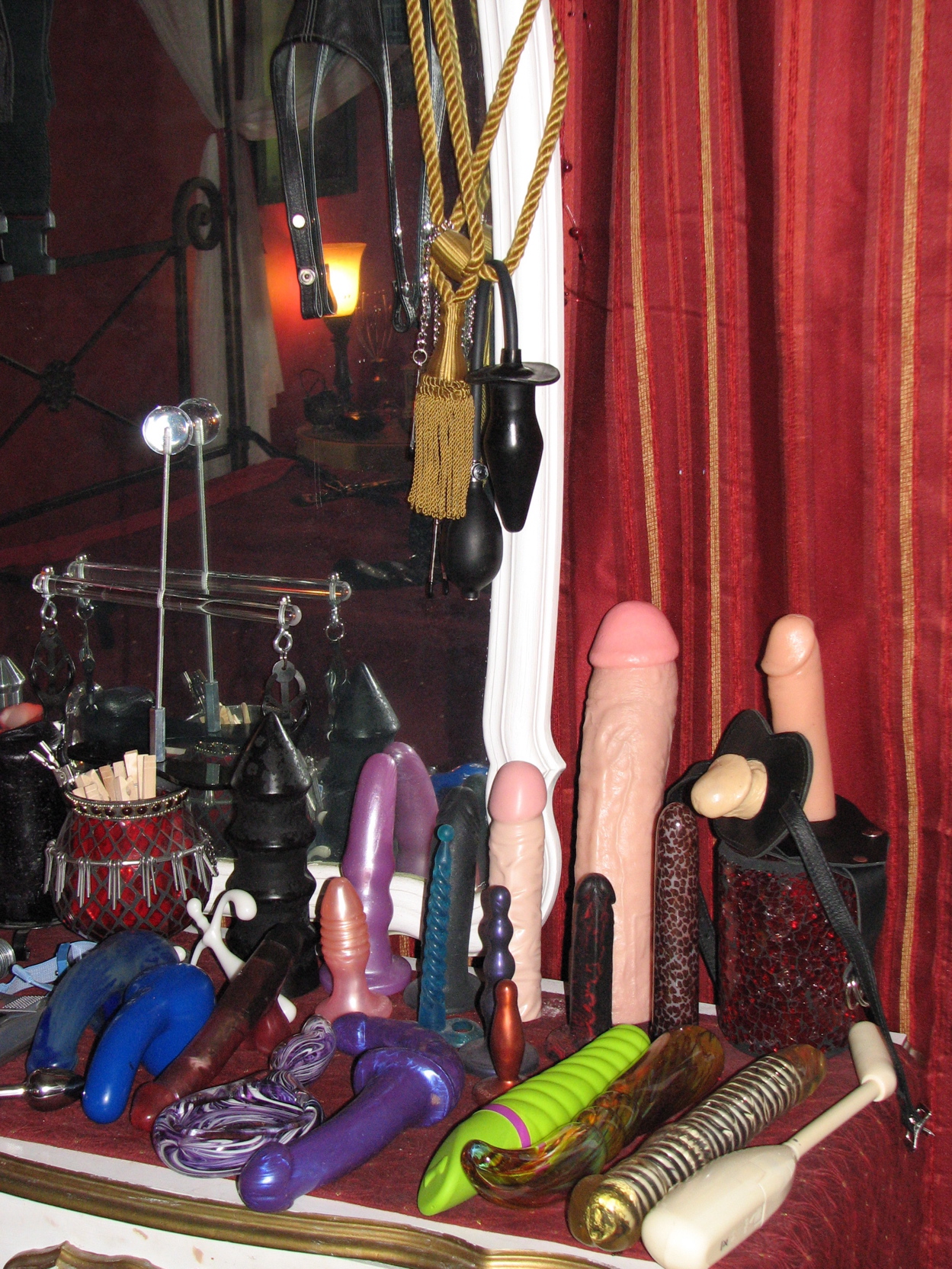 Here we go…from right to left, frontish row first: vibrating anal probe; striped double headed dildo; doubled headed glass dildo; lime green vibrator; red and black dildo; small orange butt plug; small purple butt toy; Nexus – large double headed purple dildo; blue swizzle butt toy: pale pink butt plug w/optional vibe; purple and white glass prostate massager(the part facing you is the large round handle and does not go in your butt); pink vibe w/disco lights (no, I'm not making that up); the infamous Aneros prostate toy (the weird white thing); two different size, blue P spot/G spot attachments for the Hitachi Magic Wand "back massager" (not pictured…hiding under the bed); small metal butt plug.
Back row, from right to left: double headed dildo gag: smaller one sided dildo gag; leopard print lipstick vibe; HUUUUUGE flesh colored dildo (It's called Hung. Not making that up either. And yes, I have seen someone take it); more reasonable sized flesh colored dildo; black dildo (this one is "my" cock); purple curved dildo (this one, the smaller AND the larger flesh colored dildos are meant to be used on this not  pictured but present device: http://www.stockroom.com/Blue-Bot-Robo-Lover-Fucking-Machine-P2440.aspx ); lastly there is what I like to call the licorice christmas tree…it is the butt toy I use to threaten bad little boys who don't behave. There's also an inflatable butt plug, some nipple clamps, a standard, and a thigh, strap on harness hanging above this splendid dick buffet.
While we're here, I'd like to take the time to remind any curious readers that despite the bounty of boy (and girl) fun you can see here…if you email or call me requesting strap-on play or a "strap on session" (or anything else that could be construed as "sexual explicit")…this picture is, unfortunately, as close to any of my dandy dicks as you will ever get. If this needs clarification, please read what I have to say at the top of this page on my website: http://pleasemistresskatherine.com/games.htm
SO…hopefully you're amped up enough by the pictured promise of prostate pillaging that the next products won't dishearten you too much. Always remember, just like most boys and girls will never play with Huge Hung in one of my scenes…there's plenty o' things on this counter that are only for very specially twisted individuals and are NOT the type thing I'm likely to inflict on the inexperienced and/or the unwilling.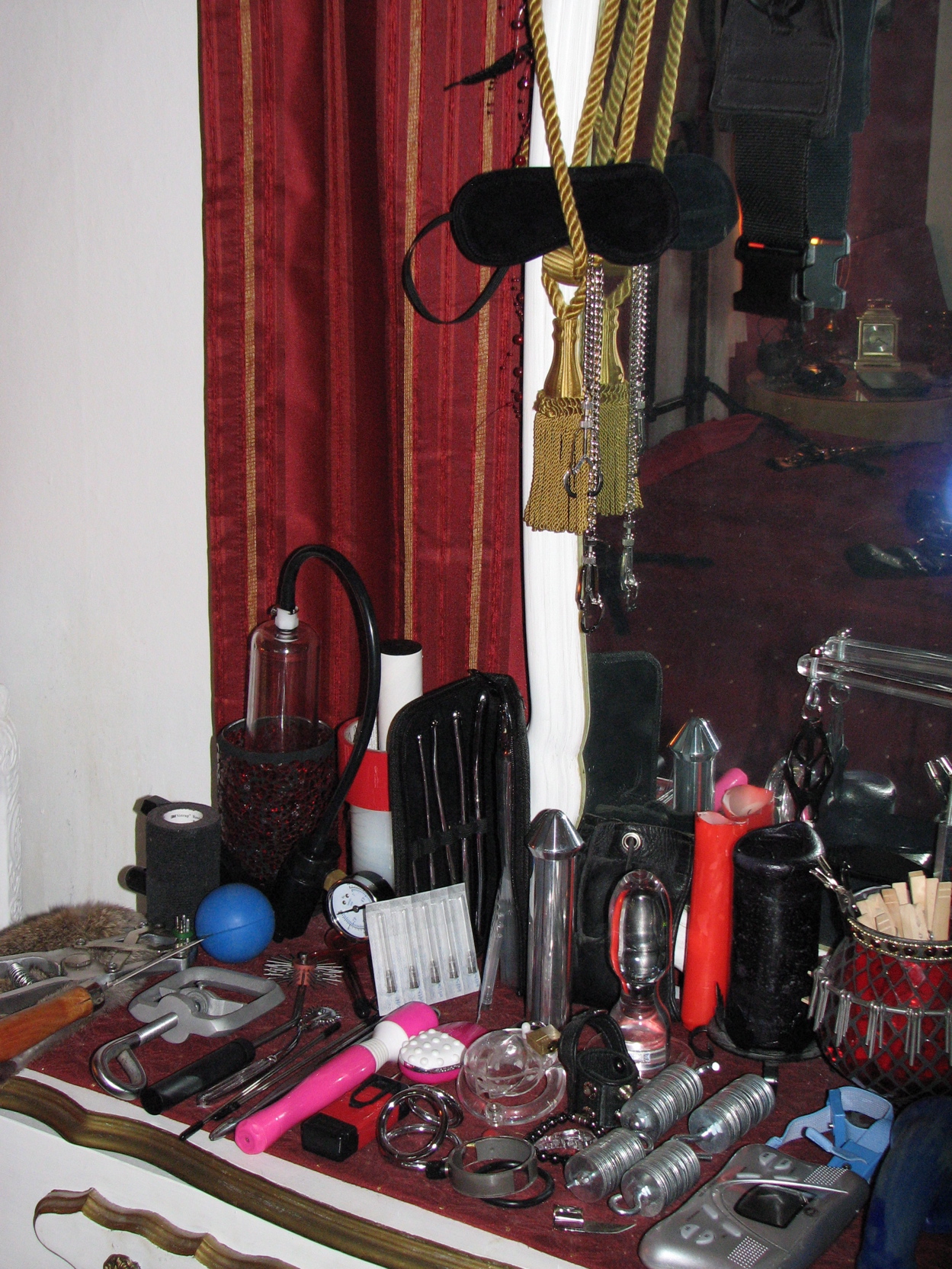 From left to right, front-ish row first: soft fuzzy rabbit mitt; Elastor castration device; Bonger massage tool; metal genital clamp; upgraded Wartenburg wheel; standard Wartenberg wheel; lube shooter; metal nipple clamp sticks; medical clamp scissors; Cobra Stinger electric toy; pink wand vibrator; small pink and white vibe; clear plastic male chastity device w/lock and optional spike insets; 3 ringed metal cock ring; leather ball stretcher; magnetic ball cock ring; plastic electrode adaptive cock ring; four metal ball stretching weights; metal claw; adjustable penis straps for electro stim; Digital Power Box (for PSG electric play).
Back row: rubber bondage tape; penis pump(half hiding in a candle holder); roll of plastic wrap for mummification; red roll of classic bondage tape; set of S curve medical sounds; couple of packs of play piercing needles (I have many more…just ask); acrylic and metal Rocket strap-on for electro play; acrylic and metal plug for electro play; black leather bag of sand also for ball stretching; red wax play candle; black not-for-sex-play candle; bunch of wooden clothes pins; Tower of Pain nipple torture device (sitting on the red container full of clothes pins. You can see it a bit better in Part One).
Some other things not pictured: Full sized steel suspension/bondage frame; extensive violet wand set; electric fly swatter; Go Girl pee funnel; plastic bat; cattle prod; fucking machine (I call him Mr Roboto); bunch more rope; Liberator Ramp sex pillow; full cross dressing/feminization wardrobe including lingerie, dresses, shoes, breast forms, wigs, and make-up.
There's probably more, things I use so rarely they didn't even make it on here…or that I use so often it didn't even occur to me. Though this should give you an idea of what I mean when I say I am a reluctant gear whore…but I am, obviously, geared up none the less.
Stay tuned next week for some sexy product reviews, a bit of a rant about wank shaming, and, hopefully, a report from INTERSECTIONS – Social Outreach Seattle's next meeting.