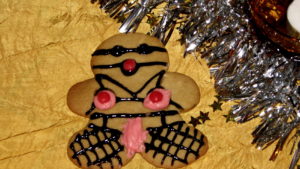 Hey there Pervs.
So you may have noticed if you're visiting after an absence, I've made some changes to my website this holiday season.
Festive first! I'm now, after too much demand to be denied, offering Distance Domination for all you naughty boys and girls that can't make it to Seattle to see me. This is sure to please many who've had a visit with me on their bucket list for awhile. And though I can't promise that a phone, or Skype, chat is going to be as fun as being in my gloriously wicked presence, feeling my greedy hands all over your bod…its still sure to be a damn good time and far from a sad compromise for those unable to make it into my literal, and figurative, clutches.
Hopefully this will also be a nice option for folks I've seen before, who have cursed their inability to get back to see me again due to busy schedules and/or uncooperative business trip itineraries. You should plan a call so we can get all…caught up.
Right now I'm just offering full hour phone/Skype sessions for $150, but am considering signing up for Niteflirt to expose my awesomeness to even more little bitches and offer shorter talk time options. I'll post links here when I'm all set up on said site. In the interim, you can email me like you are inquiring regarding any other type of session, with a date/time in mind, and I'll reply with further instructions.
I'm also now, very selectively, offering outcall which will likely mostly please other introverted home bodies like myself. This is acknowledging that yes, Seattle traffic SUCKS, and I'm usually in a more fit state for enduring it than my playmates after I've finished with them. Expect to see a "travel fee" depending on the distance and/or time of day I'll be traveling. But I know I'm certainly happy to pay a little more if it means not having to put on pants to procure something I want.
Neutral news, but still news, I've consolidated to one new email account over at Proton Mail. So if you have me saved to your address book please make note. Also, don't be alarmed if you get an email, or email reply, from this new address. It's still me…just me being a bit more paranoid. If you are unfamiliar with this email provider, I strongly recommend checking them out. Free accounts, unless your inboxes and emails get bulky, but the big selling point is that they're encrypted and based in Switzerland. As you might have noticed, some changes have been happening on the national scale that should have most everyone feeling a little more cautious about how they interact on-line. Probably a place we all should have been from the get go…but its never to late to get serious about cyber security. I also recommend the free Signal app for encrypted texts and calls. You likely know a number of people already using it and you'll find out once you sign up. All these precautions work best if both ends of a communication are encrypted. I've done my part, now its up to you.
One other change to how I communicate with my admirers, I'm going to be blogging more (no really!) and am even hatching some plans for podcasts and or a radio show. Blogging, well thats starting right now. What? This post may be mostly housecleaning, but it still counts…here…
penis penis penis penis penis penis
See, hot chick saying penis. That makes this post porny.
And I'm not wearing any underwear
Anyhoo, so more blogging will commence immediately while hearing my dulcet tones talking all manner of smack about sex 'n stuff, for free and everything, ensues soonish.
Which will hopefully make up for the fact that I've locked down most of my Facebook account to "Friends Only" while also starting a purge of less known people from said list. And since Twitter seems like mostly a place for howler monkeys to throw poop at people (not my kink…but not judging others) I won't be posting much there either. But feel free to book mark this page, or the version NOT on a Pro Domme's website if, again, you're concerned about who might be seeing your web browsing history. My blog is where the sexiest stuff will end up anyway. Sorry if you'll be sad to miss out on my sultry sandwich photos and derpy animal memes. Actually, on second thought, I'll probably still post those publicly.
Last bit of news is something that I'd managed to mostly avoid for the last 14 years, but as the title of the post declares, Times They Are A Changin'. Moving forward I'll be requiring references and/or identity verification from all new potential, in-person, domination clients. I've managed to do without this step for as long as I have mostly because I have pretty good intuition about people and had put up just enough hurdles masked as instructions that I felt safe without additional info from prospective playmates. But the industry, and those who engage with it, have been changing for awhile. It is no longer any great ask for a provider to insist on knowing who you actually are before meeting, just as verifying people's identity discreetly has become even simpler.
I shall be disappointed if this new protocol discourages nervous newbies from contacting me, I do so love breaking in virgins. But I feel I've been more than generous in the options for verification I've provided. And honestly, if you're more nervous about me knowing your legal name than knowing what I'm capable of doing to your testicles…maybe your anxiety needs some realistic adjusting.
But this also means that I can communicate a bit more openly with folks in advance of their appointment about their specific interests, so its far from all bad news. Though discretion will still be the better part of valor when it comes to the length and graphicness of said communications. Especially since I now offer a few options for those who really want to get down and dirty communicating what they like, there's really no excuse for multi page missives of elaborate scenes and role play scenarios. Wankers looking to waste my time, be well warned…
But for the rest of you, thanks of stopping by! I hope Santa stuffed your stocking just like you like and that the New Year brings you many things both naughty and nice. And if Santa was slacking and/or you want to hedge your bets for 2018…I'm still here…